As the radiant festival of Diwali approaches, our hearts and homes are set aglow with the warm embrace of tradition and togetherness. It's that magical time of the year when we adorn our surroundings with the soft glow of diyas, savour delectable Indian sweets, and exchange heartfelt gifts that carry the essence of our rich cultural heritage. In the spirit of this luminous celebration, we embark on a journey to explore these remarkable Diwali hampers that promise to elevate your festive moments. These hampers are not merely gifts; they are a testament to our cherished traditions, wrapped in elegance, and meant to be savoured and shared.
17 Diwali Gifting Hampers Under ₹1000
1. JW Marriott Mumbai Sahar
JW Marriott Mumbai Sahar presents a collection of exquisite festive hampers designed to infuse the magic of Diwali into your celebrations. These hampers express your feelings in the most indulgent way possible, with options like "Bundle of Joy," "Crafted Euphoria," "Sweet Tryst," and "Tasteful Splendour." These hampers are tailored to add a touch of elegance to your timeless gifting moments.
For Orders: call 022 6882 8888 or WhatsApp at +919136981955
Cost: starting at ₹750++
2. Hyatt Centric MG Road, Bengaluru
Hyatt Centric MG Road Bengaluru offers mesmerising Diwali hampers that have been carefully curated with delectable treats, selected wines, fragrant candles, and more. These hampers provide a wide range of combinations to suit every need. Celebrate Diwali with a touch of opulence, warmth, and affection.
Where: Swami Vivekananda Road, Mahatma Gandhi Rd, Halasuru, Bengaluru
Cost: starting at ₹950++
3. The Pink Rosette, Mumbai
'The Pink Rosette Diwali Collection' promises to add a touch of sweetness to your celebrations with a blend of Diwali-inspired sweet and savoury treats. From handcrafted truffles to coconut cashew biscuits, this collection offers various gift options catering to different budgets, starting at just ₹750.
For Orders: call +91-7718077776
Cost: starting at ₹750
4. CAARA x 1 Magnolia Lane
CAARA collaborates with '1 Magnolia Lane' to create a range of food and floral hampers for Diwali. These hampers feature artisanal bread, gourmet cheese, chocolate cakes, and more. You can also customise your hamper with a selection of whole cakes, festive savouries, kitchen staples, and more.
For Orders: call or WhatsApp us at +91 8527294335, +91 8920896808 or email us at easydining@caara.com
Cost: starting at ₹761
5. Shangri-La Bengaluru
Shangri-La Bengaluru offers Mithai Magic, Blissful Baklava, and locally inspired, crafted chocolates for Diwali gifting. These delightful sweets are available in boxes of twelve!
For Orders: https://www.shangri-la.com/landing/diwali-in-bengaluru/
Cost: starting at ₹750++
6. Bombay Sweet Shop
Bombay Sweet Shop ensures you have a 'Meethi Si Diwali, Happy Si Diwali' with its limited-edition festive collection of hand-crafted, 100% vegetarian mithai. From Kaju Gulab Roll to Malty Coffee Paak and Pista Khubani Cassata Barfi, these indulgent sweets come in specially designed festive mithai boxes and beautiful gift hampers.
For Orders: https://bombaysweetshop.com/
Cost: Assorted Diwali Mithai boxes starting at ₹800/- and gift hampers starting at ₹950/
7. Eastern Sweets by Sangeeta
Eastern Sweets by Sangeeta introduces a range of Diwali hampers that include Baklava, Ladoo, Kaju Katli, sugar-free options, and more. You can also make your own custom hamper by hand-picking your favourite delicacies. Elevate your celebrations with these irresistible hampers, perfect for gifting or personal enjoyment.
For Orders: https://www.sangeetasweets.com/
Cost: starting at ₹590
8. Renaissance Bengaluru Race Course Hotel
Get ready to embrace the radiant Festival of Lights with boundless joy as we introduce the exquisite Diwali gift hampers skillfully crafted by the team at the Renaissance Bengaluru Race Course Hotel. These hampers are filled with the essence of sweetness, featuring artisanal mithais and hand-crafted chocolates.
Where: Renaissance Bengaluru Race Course Hotel
Cost: starting at ₹700
9. Sheraton Grand Bangalore Hotel At Brigade Gateway
The Sheraton Grand Bangalore offers meticulously crafted Diwali hampers with both edible products and decorative memorabilia. Four primary options include the Gleam Hamper, Dazzle Hamper, Shimmer Hamper, and Diwali Delights Hamper.
For Orders: call +91 9591996959
Cost: starting at ₹700
10. The Gift Studio
The Gift Studio's Diwali hampers are designed to add an extra layer of joy to your festive season. They offer a dazzling array of hampers, each thoughtfully curated to make your Diwali moments even more delightful. The Gift Studio also offers a wide variety of festive gift sets and essentials, including organic Rangoli sets, diyas, lanterns, candles, and welcome gift boxes, ensuring there's a perfect gift for every Diwali celebration.
Where: Nature's Basket or Spencer's to see the products in person or log on https://thegiftstudio.com/ for same-day and next-day delivery options
Cost: starting at ₹699
11. Hilton Mumbai International Airport
Hilton Mumbai International Airport has curated a selection of gift hampers that exude opulence and indulgence. Their hampers include an array of items such as wine, Chef's Special Mithai, date honey, nut-based snacks, chocolates, and traditional Diyas. These hampers promise to add a touch of luxury to your Diwali celebrations.
For Orders: Call +91 99877 59672 / 99877 59671 / 9892300051 to order our Diwali Hampers
Cost: starting at ₹899++
12. Hilton Bangalore Embassy Golf Links
Hilton's Khushiyan by Hilton collection offers a unique and customizable range of hampers. These hampers include hand-rolled Mithais like Rose, Nariyal Laddus, and Kaju Kathori, a mix of rich dry fruits, beautiful Golden Diyas, traditional Paan (dehydrated), banana chips, Channapatna toys, scented candles, spiced Makhana, and more.
For Orders: Call +91 8050353003
Cost: starting at ₹899
13. GIANI ICE CREAM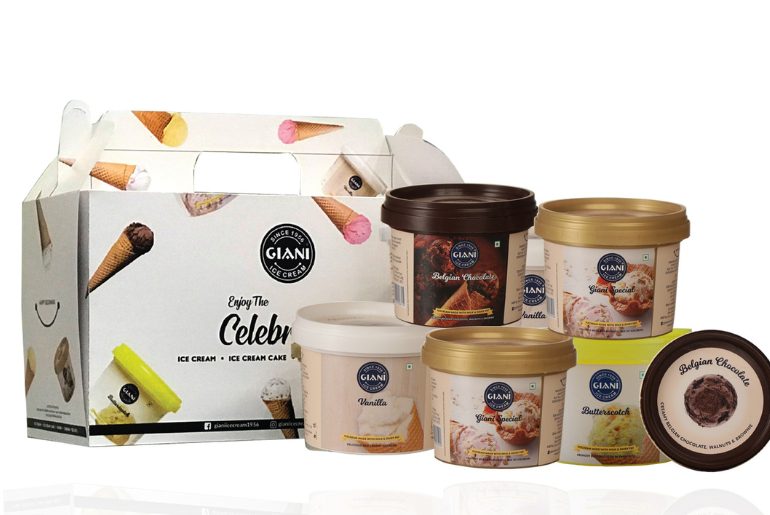 GIANI ICE CREAM introduces a special Diwali Celebration Pack, featuring a delectable assortment of ice creams to make the occasion memorable. The pack offers a perfect blend of classic and contemporary ice cream flavours.
Where: All GIANI outlets
Cost: starting at ₹600
14. VAHDAM
VAHDAM India presents an impressive range of wellness-based gift collections, including assorted Diwali tea gift sets and Chai Tea Private Reserve. These gifts are themed around elegance, uniqueness, simplicity, and luxury.
For Orders: VAHDAM India
Cost: starting at ₹599
15. Grand Hyatt Gurgaon
Illuminate your Diwali with the Grand Hyatt Gurgaon's handpicked Diwali hampers. These hampers include assorted handcrafted chocolates, homemade Indian sweets, millet pops, date and peanut chikki, Moroccan mint tea, and more. Each hamper is a unique expression of warmth and joy, with options for every family member.
Cost: ₹850++ onwards
For orders: call +91 92898 05743
16. The Baker's Dozen
The Baker's Dozen offers a gourmet celebration of flavours with their Diwali hamper. This curated hamper includes mouthwatering treats such as butter garlic toast, assorted cakes, cookies, and more. Notably, they also prioritise sustainability and local art, with a collaboration with the Kalamkari art form.
Cost: ₹549/-
17. ITC Hotels
ITC Hotels offers a handcrafted selection of traditional and contemporary indulgences to celebrate Deepavali. With options starting at just ₹799, these hampers are designed to bring warmth and joy to your home during the Festival of Lights. You can order these hampers on the Gourmet Couch on the ITC Hotels App or by calling 8800020848 for bulk orders. In Delhi, they are available at ITC Maurya and Sheraton New Delhi.
Where: In Delhi, available at ITC Maurya and Sheraton New Delhi
Cost: starting at ₹799
For order: Order on Gourmet Couch on the ITC Hotels App or Call 8800020848 for bulk orders